Nous avons trouvé un communiqué sur ce produit
Le 16 novembre 2016
Fabrication additive : EOS dévoile ses nouvelles solutions logicielles
L'impression 3D industrielle s'inscrit au cœur de l'environnement de production de demain
Domaines
Archive 2016
Francfort, 16 novembre 2016
EOS, numéro un mondial des technologies destinées aux solutions de fabrication additive haut de gamme et champion de la qualité dans ce domaine, dévoile ses dernières solutions logicielles et de fabrication additive à l'occasion du salon Formnext de Francfort. L'entreprise présente ainsi le concept des modules évolutifs EOS Shared Modules – qui vise à optimiser toutes les étapes du processus de la fabrication additive –, le logiciel de fabrication intégré EOSPRINT 2.0, mais aussi le logiciel de contrôle qualité en temps réel du processus de fabrication EOSTATE Exposure. Sous le slogan « Shaping the future of manufacturing » (Façonner l'avenir de la fabrication), EOS est présent du 15 au 18 novembre sur le stand G70 du hall 3.1.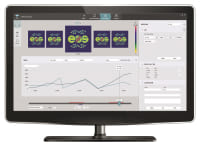 (Cliquez sur l'image pour l'agrandir)
La fabrication additive, qui constitue désormais un élément clé des lignes de production, occupe une place de plus en plus importante dans la production en série. La production évolutive et automatisée, de même que l'intégration de la fabrication additive dans les environnements de production actuels, sont autant de défis à relever par les entreprises. Avec ses nouvelles solutions intégrées et modulaires, EOS apporte une réponse claire à cette évolution et aide les entreprises à passer à la vitesse supérieure en matière d'impression 3D industrielle.
Tobias Abeln, Directeur Technique d'EOS, est catégorique : « notre objectif est d'intégrer la technologie de fabrication additive à bon escient et de manière efficace dans les lignes de production actuelles et futures. Dans le contexte actuel, nos clients doivent faire face à plusieurs problématiques – qualité des pièces, contrôle qualité, évolutivité, automatisation et coût d'exploitation. Les solutions EOS les aident à surmonter ces difficultés et à faire bon usage de l'impression 3D industrielle. »
EOS Shared Modules : une solution souple et automatique pour une production intégrée
EOS présente pour la première fois son concept de modules partagés à l'occasion du salon Formnext 2016, ainsi que le nouveau système à haute productivité EOS M 400-4 à quatre lasers destiné à la fabrication de pièces métalliques à l'échelle industrielle. Ce concept extrêmement souple et évolutif prévoit plusieurs modules périphériques et permet d'intégrer la technologie de frittage laser direct de métal dans la fabrication industrielle. Les modules périphériques et la logistique de transport de poudre automatisés garantissent l'approvisionnement efficace de plusieurs systèmes métalliques à partir de la nouvelle génération de système 'EOS M 400. Les opérations de configuration, déballage, transport de poudre et tamisage peuvent par conséquent être réalisées de manière indépendante, parallèlement au processus de production par fabrication additive. Les utilisateurs bénéficient ainsi d'un niveau élevé de flexibilité et d'évolutivité : qu'il soit destiné à un ou plusieurs systèmes, Shared Modules a été conçu pour s'adapter aux développements actuels et futurs. Des composants individuels du concept EOS Shared Modules sont d'ores et déjà utilisés par quelques clients pilotes aux exigences très élevées.
EOSPRINT 2.0 : une production en série plus rapide et plus fiable, de l'idée au produit
Avec sa solution EOSPRINT 2.0, EOS propose un environnement de FAO complet aux ingénieurs désireux de tirer pleinement parti des avantages de la fabrication additive et d'un design prêt pour la production. Cette nouvelle version a fait l'objet de nombreuses améliorations pour mieux répondre aux besoins des clients, notamment en matière d'efficacité opérationnelle, ce qui facilite les premières étapes du processus de production par fabrication additive. D'autre part, les utilisateurs augmentent ainsi leur productivité. Le nouveau module EOS ParameterEditor d'EOSPRINT, intuitif et assorti de nombreux outils, présente également des avantages pour les développeurs expérimentés. Il est ainsi possible de développer de nouvelles stratégies d'exposition qui offrent davantage de liberté pour optimiser les paramètres spécifiques à une application et contribuent à améliorer la qualité des pièces.
En partenariat avec Siemens et Autodesk, EOS a optimisé EOSPRINT pour améliorer encore l'expérience de l'utilisateur :
Avec EOSPRINT pour Siemens NX, les utilisateurs peuvent intégrer le puissant logiciel EOS CAM dans l'outil de CAO Siemens NX – ce qui permet aux designers de travailler en permanence dans un environnement familier. Grâce à cette intégration, ils bénéficient d'un cadre efficace, dans lequel ils peuvent tester et optimiser leurs idées de produits avant de lancer le processus de fabrication additive.
Les utilisateurs d'Autodesk Netfabb 2017 peuvent à présent choisir des systèmes EOS pour préparer leurs données dans le Workspace Manager et envoyer leurs travaux directement vers les systèmes EOS via l'interface EOS OpenJob d'EOSPRINT. En outre, pour la simulation du processus de fabrication additive impliquant du métal, les utilisateurs de Netfabb peuvent sélectionner et utiliser directement les valeurs appropriées aux matériaux EOS.
Toutes ces mesures permettent aux entreprises de fabriquer en série de manière additive, plus rapidement et en toute fiabilité grâce à EOSPRINT.
EOSTATE Monitoring Suite : des solutions globales de suivi du contrôle qualité
Un nouvel outil vient compléter l'EOSTATE Monitoring Suite pour le contrôle qualité et le développement de processus dans l'impression 3D des métaux : EOSTATE Exposure. Cette solution, composée d'un appareil photo spécial et du logiciel EOSTATE Exposure, peut être utilisée pour le suivi intelligent et en temps réel du processus de fabrication additive, puisqu'elle analyse le comportement de fusion et de refroidissement de l'ensemble du bain de fusion. Les indicateurs qui fournissent des renseignements sur les sources d'erreurs possibles peuvent ainsi être détectés automatiquement et évalués par l'utilisateur. Les entreprises en tirent des conclusions sur la valeur des pièces fabriquées et peuvent en assurer la traçabilité et la qualité.
EOSTATE Exposure complète la solution de contrôle EOSTATE MeltPool d'EOS, déjà disponible. Ces deux dispositifs, associées à des applications de contrôle du système et du lit de poudre, constituent l'EOSTATE Monitoring Suite. Avec ses outils de contrôle, EOS répond aux exigences des entreprises en termes de contrôle qualité, en particulier dans l'aéronautique et dans le secteur médical.
---
Plus sur EOS : www.eos.info