Nous avons trouvé un communiqué sur ce produit
Le 2 novembre 2011
Maplesoft lance Maple Player pour iPad
Maple Player pour iPad permet d'afficher en mode interactif des documents réalisés avec Maple standard
Domaines
Archive 2011
Ontario, le 2 novembre 2011
Maplesoft a annoncé aujourd'hui la sortie de Maple Player pour iPad, une application pour iPad permettant à l'utilisateur d'afficher en mode interactif des documents réalisés avec Maple standard. Ce lancement constitue la première phase d'un projet visant à renforcer le support des technologies Maplesoft sur cette plate-forme.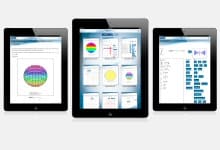 (Cliquez sur l'image pour l'agrandir)
Maple Player pour iPad profite du puissant moteur de calcul de Maple. Les utilisateurs peuvent ainsi entrer des valeurs, déplacer des curseurs et cliquer sur des boutons pour effectuer des calculs et visualiser les résultats. Maple Player est équipé d'un ensemble interactif de calculateurs et d'explorations conceptuelles. Ces outils s'utilisent pour résoudre pas à pas des intégrales arbitraires, trouver des dérivées, résoudre des systèmes linéaires, tracer des fonctions, explorer le concept de limite et bien davantage encore. Maple Player peut également afficher des illustrations graphiques interactives pour déterminer approximativement le volume d'un cylindre, faire des développements en séries ou pour explorer tout autre concept mathématique.
La version actuelle de Maple Player propose des modèles de documents qui sont fournis avec l'application. Dans la phase suivante, les utilisateurs auront accès, à partir d'une logithèque en ligne, à un ensemble de documents beaucoup plus vaste. A terme, ils pourront utiliser sur iPad n'importe quel document, que ce dernier soit distribué par Maple, apporté par la communauté Maple ou rédigé par eux-mêmes.
« iPad joue un rôle croissant comme plate-forme pour bon nombre de nos clients, explique le Dr Laurent Bernardin, vice-président exécutif et directeur scientifique de Maplesoft. Maple Player peut être utilisé pour animer une salle de classe et fournir aux étudiants des éléments de compréhension supplémentaires à la maison. Avec les progrès technologiques, nous voyons Maple Player faire bientôt partie intégrante de l'enseignement des mathématiques ».
Maple Player est disponible gratuitement dans App Store, et accessible à tous. Une copie de Maple standard n'est pas nécessaire pour utiliser Maple Player.
Pour en savoir plus sur la vision de Maplesoft pour iPad, vous pouvez lire : « Maple and the iPad », du Dr Laurent Bernardin.
---
Plus sur Maplesoft : www.maplesoft.com