Nous avons trouvé un communiqué sur ce produit
Le 26 mai 2016
AspenTech annonce la version 9 d'aspenONE
aspenONE 9 permet d'aller plus loin dans l'analyse et l'optimisation des procédés industriels
Domaines
Archive 2016
Bedford, 26 mai 2016
Aspen Technology, un des principaux fournisseurs de logiciels et de services pour les industries de transformation, annonce aujourd'hui la disponibilité générale d'aspenONE Engineering et aspenONE Manufacturing and Supply Chain Version 9. Cette nouvelle version fournit aux entreprises des secteurs du pétrole, du gaz, du raffinage, des produits chimiques, de l'ingénierie et du BTP et des autres industries de transformation les workflows simplifiés et intégrés qui permettent d'économiser des millions de dollars.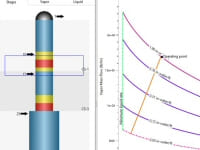 (Cliquez sur l'image pour l'agrandir)
Les innovations d'aspenONE V9 aident ces entreprises à repousser les limites de performance de leurs installations en leur permettant de concevoir et de corriger leurs procédés en toute confiance, d'améliorer la fiabilité en appréhendant mieux les contraintes de fabrication, d'intégrer plus vite de nouveaux utilisateurs et d'assurer en permanence des conditions de sécurité cohérentes sur l'ensemble du cycle de vie des équipements.
Avec cette nouvelle version d'aspenONE, AspenTech continue de fournir un cadre logiciel complet qui favorise l'excellence opérationnelle en offrant aux industriels les avantages suivants :
Meilleure capacité d'analyse. Une vision approfondie des procédés essentiels permet de résoudre les problèmes de manière plus efficace, plus rapide et plus économique.
Les colonnes de distillation ont la réputation d'être difficiles à faire fonctionner de façon optimale, problème qui entraîne des pertes de produits, une baisse de qualité et une hausse des coûts d'exploitation. Avec la nouvelle solution d'analyse de colonnes d'Aspen HYSYS et Aspen Plus, les ingénieurs peuvent immédiatement analyser les performances hydrauliques et tester les paramètres de fonctionnement, ce qui permet de faire jusqu'à 20 % d'économies d'énergie supplémentaires et de réduire potentiellement les dépenses de plusieurs millions de dollars grâce à l'amélioration de la qualité des produits et du rendement.
En cas de situation d'urgence, ce sont des vies et des milliards de dollars d'équipements qui sont en jeu. La technologie BLOWDOWN, numéro un du marché et désormais intégrée au logiciel Aspen HYSYS, a déjà été utilisée dans plus de 400 projets dans le secteur du pétrole, du gaz et du GNL afin de réduire considérablement les coûts d'exploitation.
Modèles facilitant l'aide à la décision. Des modèles cohérents et rigoureux favorisent l'amélioration des procédés, ce qui permet aux industriels de dégager une meilleure marge et de réduire leurs dépenses d'investissement et leurs coûts d'exploitation.
L'amélioration de l'intégration et du workflow dans la nouvelle version du modèle de planification de raffinerie d'aspenONE permet aux ingénieurs de procédés d'actualiser les modèles de planification si bien que les planificateurs parviennent à améliorer la rentabilité en analysant facilement et précisément la marge bénéficiaire à l'échelle de la raffinerie. Le gain peut aller jusqu'à 10 % ou 20 millions de dollars à l'année par site.
Le logiciel Sulsim Sulfur Recovery intégré à Aspen HYSYS assure la conformité avec la réglementation environnementale, réduit les coûts et respecte les spécifications des produits quelle que soit l'évolution des conditions d'alimentation et d'exploitation, tout en décongestionnant simultanément la raffinerie de gaz.
Les dernières innovations en matière de modélisation personnalisée permettent aux ingénieurs de procédés de simplifier l'intégration de modèles personnalisés dans Aspen Plus, ce qui réduit les délais de commercialisation dans le secteur de la chimie de spécialité en accélérant la modélisation des procédés fondamentaux.
Schlumberger et AspenTech ont uni leurs efforts pour produire le tout nouveau lien entre le logiciel OLGA et Aspen HYSYS, renforçant la modélisation à l'échelle des installations pour maximiser la production sans compromettre la sécurité en amont. De plus, les nouvelles fonctionnalités de partitionnement du mercure offertes par Aspen HYSYS détectent et réduisent les polluants dangereux, ce qui améliore la fiabilité des équipements et diminue les coûts de maintenance.
Simplification des workflows applicatifs APC grâce à une interface utilisateur intuitive au format ruban. Parmi les nouveautés d'aspenONE Manufacturing and Supply Chain V9 figure le module Aspen DMC3 Builder qui permet de gagner jusqu'à 30 % d'efficacité en concevant et déployant de A à Z tous les contrôleurs APC AspenTech à l'aide d'un même outil intuitif. De par sa structure orientée workflow, il accélère la conception des contrôleurs et permet à un plus grand nombre d'ingénieurs d'y participer, préservant ainsi la connaissance des procédés et améliorant l'efficacité des projets APC.
Extension de l'ordonnancement au-delà des murs de la raffinerie. Pour répondre à la demande de carburant tout en réduisant les coûts et maximisant la rentabilité, il faut pouvoir évaluer et optimiser les arbitrages nécessaires au niveau de la chaîne logistique. Le nouveau module Map Monitor du logiciel Aspen Fleet Optimizer (AFO) est un outil de cartographie interactif de type Web qui améliore la vision des planificateurs en leur délivrant des informations précises en temps réel pour rationaliser la distribution de carburant.
La version V9 du logiciel aspenONE Engineering and Manufacturing & Supply Chain est disponible dès aujourd'hui. Les clients qui possèdent une licence aspenONE peuvent mettre à niveau leur logiciel gratuitement.
Plus d'informations sur http://www.aspentech.com/V9-Release.
Ils en parlent...
Josh Fredberg, Senior Vice President, directeur produits et marketing d'AspenTech
« Cette nouvelle version du logiciel aspenONE s'inscrit dans la continuité de notre volonté de faire avancer les industries de procédés en leur offrant des solutions innovantes qui maximisent les rendements sur l'ensemble du cycle de vie des installations. Nous sommes ravis de lancer cette nouvelle version de notre logiciel intégré aspenONE qui aide les entreprises à préserver leur excellence opérationnelle pour optimiser leurs résultats. »
Benito Caamaòo Nieves, technicien du pôle technologique de Repsol
« Nous utilisons le module Acid Gas Cleaning and Column Analysis d'Aspen HYSYS V9 pour optimiser les spécifications et le coût des procédés de traitement des gaz acides dans nos installations tout en évaluant parallèlement l'impact des modifications de ces procédés sur l'hydraulique des colonnes. Nous prévoyons d'insérer les diagrammes hydrauliques disponibles dans la toute dernière version d'aspenONE Engineering à nos rapports standard sur les amines en tant que meilleure pratique pour contrôler et améliorer la performance des colonnes. »
Harendra Singh, Responsable ingénierie chez NPCC
« La nouvelle fonctionnalité BLOWDOWN d'Aspen HYSYS offre une solution tout en un pour analyser la décompression et la température minimale des installations. Elle marque une avancée dans la bonne direction par rapport à l'utilitaire conventionnel de dépressurisation car elle utilise les corrélations de référence de l'Imperial College pour estimer les températures minimales du métal. Un grand nombre d'autres nouveautés ont également été ajoutées comme la possibilité de modéliser la géométrie détaillée des systèmes, et le workflow est très convivial. Tous ces avantages devraient améliorer l'efficacité des ingénieurs de procédés. »
---
Plus sur AspenTech : www.aspentech.com