Nous avons trouvé un communiqué sur ce produit
Le 24 juin 2015
La nouvelle plateforme PowerEdge série C de Dell met le HPC à la portée de toutes les organisations
Elle double les performances par rapport à la génération précédente
Domaines
Archive 2015
Paris, juin 2015
Dell repousse les limites du calcul hautes performances (HPC) et de l'analytics Big Data avec le PowerEdge C6320, dernier né des serveurs Dell PowerEdge de 13ème génération. Le PowerEdge C6320 double les performances au banc d'essai HPC et conjugue capacités de calcul et de stockage dans un châssis 2U compact, pour satisfaire les exigences des applications HPC et des solutions et appliances hyper-convergées.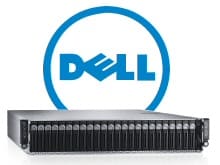 La notion d'alignement du HPC et du Big Data gagne du terrain depuis quelques années. Alors que les applications analytiques et Big Data occupent les entreprises de toute taille et de tous secteurs d'industrie, les départements IT traditionnels s'intéressent aux solutions HPC pour fournir rapidement des informations fiables aux décideurs. Dernière solution HPC de Dell résolument tournée vers l'avenir, le Dell PowerEdge C6320 aide les chercheurs et les entreprises à travers le monde à prendre les meilleures décisions.
Comme les systèmes hyper convergés et notamment Dell Engineered Solutions for VMware EVO: RAIL et Dell's XC Series of Web-scale Converged Appliances constituent le segment le plus dynamique du marché global de l'infrastructure convergée, le serveur PowerEdge C6320 avec ses logiciels d'administration embarqués représente la plateforme idéale pour ces appliances. IDC estime que les ventes de systèmes hyper convergés vont augmenter de 116,2% en 2015 pour atteindre 806,8 millions de dollars (USD). Le marché devrait afficher un taux de croissance annuelle moyen (CAGR) de 59,7% entre 2014 et 2019, pour générer 3,9 milliards de dollars de ventes au total.
Dell PowerEdge C6320, conçu spécifiquement pour les besoins de calculs hautes performances
Le PowerEdge C6320 offre quatre nœuds de serveurs indépendants dans un châssis 2U.  Il double les performances par rapport à la génération précédente au banc d'essai LinPack, affiche 45% d'amélioration des performances au banc d'essais SPECint_rate et une efficacité énergétique 28% supérieure au banc d'essai Spec_Power. Les clients bénéficient ainsi de performances applicatives et d'une productivité optimisées tout en consommant moins d'énergie et en économisant de l'espace dans le datacenter.
Le PowerEdge C6320 est équipé des processeurs Intel Xeon E5-2600 v3 de nouvelle génération et propose 18 cœurs par socket (144 cœurs par châssis 2U), jusqu'à 512 Go de mémoire DDR4 et jusqu'à 72 To d'espace de stockage en local. De plus, le PowerEdge C6320 intègre la technologie d'administration iDRAC8 with Lifecycle Controller, qui permet aux clients d'automatiser de nombreuses tâches pour gagner du temps et réduire le nombre d'étapes de déploiement, de monitoring et de mise à jour de leurs serveurs tout au long de leur cycle de vie.
Pour les charges de travail HPC et Big Data, il est possible d'associer le PowerEdge C6320 avec le serveur PowerEdge C4130 optimisé par ses accélérateurs. Le PowerEdge C4130 est un serveur rack avec cartes graphiques, à la fois dense et flexible, idéal pour les charges de travail les plus exigeantes. Il offre une densité d'accélération par carte graphique jusqu'à 33 % supérieure à celle de ses plus proches concurrents et intègre 400 % plus de cartes graphiques/accélérateurs PCIe par processeur et par rack U qu'un système HP comparable. Le PowerEdge C4130 peut traiter plus de 7,2 téraflops sur un seul serveur 1U et présente un rapport performance/watt pouvant atteindre 4,17 gigaflops par watt.
Le Dell PowerEdge C6320 propulse Comet
Comet est un super ordinateur petascale conçu pour transformer l'informatique scientifique avancée par sa capacité exceptionnelle mise à la disposition du plus grand nombre. Déployé au San Diego Supercomputer Center (SDSC) de l'Université de Californie à San Diego, Comet comprend 27 racks de nœuds de calcul PowerEdge C6320 et sa conception est pensée pour optimiser la capacité pour les travaux d'échelle modeste. Avec 1 944 nœuds au total, ou 46 656 cœurs, Comet offre une capacité de calcul cinq fois supérieure à celle du système HPC qu'utilisait précédemment le SDSC.
« Nous aimons dire que Comet c'est 'HPC pour 99% des utilisateurs' : nous l'envisageons comme une porte d'accès sur les découvertes qui met le calcul hautes performances à la portée de la grande communauté des chercheurs », déclare Michael Norman, directeur de SDSC et chargé des investigations pour le projet Comet. « Ceci suppose des bases matérielles solides, c'est pourquoi nous avons choisi le Dell PowerEdge C6320s, pour la notoriété de Dell dans le domaine du  HPC, la qualité du design de ses offres matérielles, ses innovations, et sa simplicité de déploiement. Nous sommes enchantés de travailler avec Dell car nous allons pouvoir élargir l'accès à des chercheurs qui n'ont peut-être jamais travaillé avec des supercalculateurs et accélérer ainsi les découvertes. »
Dell PowerEdge C6320 pour l'hyper convergence
Dell fournit des solutions hyper convergées avec matériel et logiciels préconfigurés intégrés pour composer des solutions spécifiques pour l'ère du software-defined. Conçu comme une plate-forme scale-out modulaire, le PowerEdge C6320 convient idéalement à ces solutions, et notamment à Dell Engineered Solutions for VMware EVO: RAIL et Dell XC Series of Web-scale Converged Appliances. Le PowerEdge C6320 est la juste combinaison de performance des processeurs, nœuds de calcul et stockage local, avec des outils d'administration de serveur sans agent, permettant aux clients de déployer leurs solutions rapidement et de les administrer.
« A mesure que les organisations sont submergées d'information, la corrélation entre analyse des données et calcul hautes performances devient plus forte », déclare Ashley Gorakhpurwalla, vice-président et directeur général, Dell Server Solutions. « Que ce soit pour aider la recherche à faire des découvertes révolutionnaires ou pour accélérer le déploiement de produits et de services dans de grandes organisations IT, le PowerEdge C6320 illustre à nouveau la volonté de Dell de préparer les entreprises aux besoins futurs et de valoriser l'information pour en retirer un avantage compétitif. »
« De plus en plus de professionnels IT adoptent les solutions hyper convergées conçues par Dell pour simplifier et rationaliser leurs capacités IT et délivrer des résultats positifs dans les meilleurs délais », déclare Jim Ganthier, vice-président et directeur général, Dell Engineered Solutions and Cloud. « Le PowerEdge C6320 va jouer un rôle prépondérant dans la gamme Dell Engineered Solutions. Sa plateforme modulaire flexible avec fonctions d'administration automatisées en fait une plateforme idéale pour les appliances comme Dell Engineered Solutions for VMware EVO:RAIL, Dell XC Series of Web-scale Converged Appliances et nos offres HPC. Cette combinaison exceptionnelle de fonctions et de capacités promet les meilleurs niveaux de performance et d'efficacité énergétique au juste prix aux clients qui sont certains de pouvoir tenir leurs objectifs présents et futurs. »
---
Plus sur Dell : www.dell.fr