22 mai 2023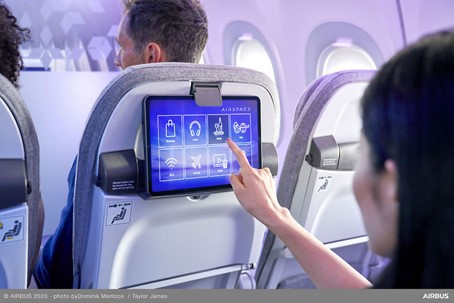 (Cliquez sur l'image pour l'agrandir)
Vous prévoyez d'atterrir à Pittsburgh dans une heure. Le pilote vous annonce alors que votre vol sera retardé. Pas de problème. Vous pouvez communiquer ce retard à la personne qui vous attend à l'aéroport via votre appareil mobile depuis la piste d'atterrissage. Vous pouvez aussi ouvrir l'application Uber, prendre un taxi et éviter à quelqu'un d'autre de venir vous chercher. Le maintien de ce niveau de connectivité est devenu un élément essentiel de la vie quotidienne, tant sur le plan personnel que professionnel, qu'il s'agisse de s'inscrire à une conférence parents-professeurs de dernière minute, de modifier à la volée une présentation en vue d'une réunion importante ou de régler le thermostat en rentrant à la maison pour une arrivée confortable. 
Au cours des prochaines années, les attentes des consommateurs en matière de connectivité continueront de s'étendre à l'internet des objets (IdO), à mesure que nous développerons et intégrerons davantage d'appareils intelligents dans nos vies. Cette tendance promet de révolutionner l'aviation, et plus particulièrement la cabine des avions, du contrôle de la température aux machines à café en passant par les expériences de divertissement.
Toutes ces technologies intelligentes sont gérées par un réseau de technologies en cabine et de capteurs qui travaillent ensemble simultanément pour améliorer la sécurité des passagers, les expériences en vol et le confort. Elles constituent également des éléments clés de différenciation pour le constructeur d'avions de première classe Airbus dans le cadre de son expérience de cabine connectée pour le transport aérien commercial, Airspace Link - rendue possible, en partie, grâce au soutien du logiciel Ansys.
Une approche de la cybersécurité centrée sur le produit grâce à la simulation
Au cœur de l'expérience connectée d'Airbus se trouve la plateforme de gestion intelligente Airspace Link (iCMP), un système de gestion de cabine (CMS) qui fournit l'interface permettant aux équipages de surveiller et de contrôler toutes les fonctions de l'avion liées à la cabine. C'est ce qu'Airbus décrit comme "l'épine dorsale numérique" de l'écosystème Airspace Link responsable de la gestion de la cabine et qui remplace le système de données d'intercommunication de la cabine (Cabin Intercommunication Data System - CIDS).
L'iCMP fournit l'infrastructure nécessaire à une plateforme numérique intelligente qui permet l'accès et la gestion des données, l'hébergement de contenu et les contrôles de gestion de la cabine. L'objectif de l'iCMP est de soutenir une plateforme unique et centrale qui intègre l'ouverture, la flexibilité et l'efficacité nécessaires pour établir des connexions importantes.
Jusqu'à présent, les CMS étaient généralement conçus pour atteindre les objectifs de sécurité aérienne, tout en reléguant toutes les autres exigences au second plan. Au cours de la phase de développement, la simulation Ansys a permis d'adopter une approche plus centrée sur le produit, où chaque CMS est conçu à la main pour un avion spécifique. Cette approche plus axée sur le produit permet à Airbus d'améliorer la cybersécurité au rythme de l'évolution de l'électronique des passagers et des écosystèmes connexes. Elle s'inscrit dans le cadre d'un effort de rationalisation plus ambitieux portant sur toutes les lignes de produits CMS.
Le logiciel Ansys permet de créer une cabine connectée plus souple et plus agile
Le plus grand défi consiste à concevoir une nouvelle plateforme évolutive à partir de zéro dans un délai réduit (une première mise en œuvre est prévue pour 2024) qui pourrait prendre en charge des décennies d'exploitation de l'avion. Ansys SCADE fournit une plateforme flexible et agile qui permet à Airbus de mettre en œuvre avec succès une nouvelle technologie connectée pour la future configuration de la cabine.
Les délais, la complexité et la conformité aux réglementations de sécurité ont représenté des défis considérables au cours du développement, aggravés par l'augmentation du développement logiciel au niveau d'assurance de la conception (DAL) DO-178 C, plus particulièrement le DAL B relatif à la détection des fumées. La norme DO-178C, Software Considerations in Airborne Systems and Equipment Certification, est l'étalon-or pour l'approbation par la Federal Aviation Administration (FAA), l'European Union Aviation Safety Administration (EASA) et Transport Canada des systèmes aérospatiaux commerciaux basés sur des logiciels.
Pour ce faire, Airbus avait besoin d'une solution capable de réduire les activités de test, d'accélérer et de rendre agile le processus de vérification des systèmes embarqués certifiés, de réduire les efforts internes de qualification des outils et de soutenir le générateur de code à long terme. Pour ce faire, la dernière version de SCADE a été utilisée, en s'appuyant sur les développements les plus récents et les fonctionnalités avancées que l'environnement de développement basé sur des modèles a à offrir.
Ansys SCADE répond à toutes les exigences système
SCADE répond à toutes les exigences des systèmes en offrant un flux de travail complet, de la conception à la vérification, avec une génération de code certifiée, tout en réduisant les coûts de développement des logiciels. L'utilisation du logiciel permet d'accélérer la conception de logiciels embarqués, ce qui se traduit par des gains de temps significatifs. Il a également facilité un processus certifié, basé sur un modèle, pour l'amélioration de la sécurité.
Grâce à SCADE, Airbus peut fournir les capacités clés de l'iCMP pour le système de gestion de la cabine, telles que la détection de fumée, qui est l'une des fonctions les plus critiques en matière de sécurité dans la cabine, et une cybersécurité accrue.
Transformation numérique à l'horizon
À l'avenir, Ansys SCADE sera connecté à l'approche DDMS (Digital Design, Manufacturing and Services) d'Airbus en matière de conception, de fabrication et d'exploitation aérospatiales, le programme de transformation numérique du constructeur. L'approche modélisée d'Ansys SCADE pour les logiciels embarqués s'aligne parfaitement sur l'approche DDMS de l'entreprise, car elle assure la continuité numérique entre les exigences, les systèmes et l'ingénierie logicielle.
L'objectif de ce logiciel est de réaliser des percées et des changements majeurs en matière de conception, de fabrication et de support produit ; d'accélérer les délais qui peuvent mieux s'adapter aux cadences des produits industriels ; de sécuriser la performance opérationnelle et la maturité industrielle ; de réduire les délais de développement des produits conduisant à une augmentation de la valeur ; et de réaliser une satisfaction accrue des clients en raison de la flexibilité de la personnalisation à un stade ultérieur.
---
Plus sur Ansys : www.ansys.com/fr-FR
Recommandé
EPLAN 2023 : Vous accompagner dans l'amélioration de vos processus
EPLAN vous accompagne avec une évaluation gratuite sur l'amélioration de votre productivité.
... En savoir plus

Abonnez-vous
Recevez deux fois par mois la synthèse de l'actualité CAO et PLM et gagnez peut-être une imprimante 3D ou une souris 3D (un tirage au sort chaque mois)