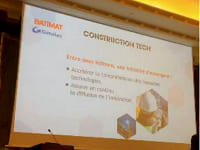 Du 25 au 28 septembre


Micronora 2018

Besançon (25)

ouvrir

Du 25 au 28 septembre 2018, le salon référence en Europe, dans le domaine des microtechniques et micro-nanotechnologies, se déroulera en France à Besançon.

Multi-technologique, spécialisé en haute précision, miniaturisation et intégration de fonctions complexes, Micronora propose une offre qui va de la R&D à la soustraitance, jusqu'aux technologies de production. Le salon propose une multitude de solutions pour répondre aux défis toujours plus ardus des donneurs d'ordres, qui exigent toujours du plus petit, plus précis et plus intelligent.

Fermer En savoir plus
Du 23 au 24 octobre


ENOVA 2018 : Les grands rendez-vous de la R&D en France

Paris (75)

ouvrir

ENOVA, le salon de l'innovation en électronique, mesure, vision et optique, propose un écosystème complet et unique en France, au coeur des grandes régions industrielles.

Opportunité de business, d'échange des connaissances et de networking, les salons ENOVA fédèrent l'ensemble des acteurs de la Recherche et de l'Industrie à l'affût de solutions innovantes pour accompagner leur mutation numérique et leurs projets de développement.

Pour compléter son rendez-vous annuel à Paris, et être ainsi au plus près des besoins des marchés régionaux, ENOVA se décline en région avec des salons de proximité.

Le tour de France 2018 des grands bassins industriels démarre en février prochain :
à LYON, les 7 et 8 février 2018
à TOULOUSE, les 30 et 31 mai 2018
à PARIS les 23 et 24 octobre 2018
Fermer
En savoir plus

Du 20 au 21 novembre


BE 4.0

Mulhouse (68)

ouvrir

Organisé par la Région Grand Est, Mulhouse Alsace Agglomération et le Parc Expo Mulhouse, le Salon Be 4.0 réunira, les 20 et 21 novembre 2018, les industriels européens cherchant à sourcer les innovations et les technologies pour relever le défi stratégique de la transformation des chaînes de valeur. Plus de 3 500 visiteurs sont attendus.

Be 4.0 est un événement tri-national réunissant des offreurs de solutions français, allemands et suisses. Il illustre la richesse des dynamiques transfrontalières mises au service de l'industrie du futur, tout en faisant rayonner les savoir-faire et l'excellence du Grand Est.Ce rendez-vous annuel est l'un des temps forts du territoire. Véritable vitrine de l'innovation  il s'inscrit dans le cadre du plan régional Entreprise 4.0 porté par la Région Grand Est qui vise à faire du territoire un des leaders européens de l'industrie du futur.

En deux jours,
Un cycle de rencontres plénières réunissant des intervenants européens de renom permettra d'approfondir les thématiques clés de l'industrie du futur parmi lesquelles la cybersécurité, l'intelligence artificielle, les matériaux innovants, la place de l'homme dans le nouveau business model ;
180 offreurs de solutions français, allemands et suisses présenteront  leurs innovations dans les technologies clés de l'industrie du futur (réalité virtuelle, fabrication 3D, cobotique, éco-conception, data...) mais également les solutions en matière de financement et d'accompagnement des entreprises vers le 4.0 et de management des nouvelles compétences ;
Tous les profils d'acteurs seront représentés : grands groupes, PME, start-ups, plateformes technologiques et laboratoires, écoles et universités, structures de financement et d'accompagnement, etc.
Des rendez-vous d'affaires seront organisés afin de soutenir l'accélération de leur croissance.
Des démos des techniques 4.0 et des conférences d'experts sur leurs projets innovants et inédits rythmeront les deux journées de salon.
Fermer
En savoir plus